LeBron James Alters Free-Throw Shooting Technique With Help From Kyle Korver
The free-throw shooting of the Cleveland Cavaliers' LeBron James has been marked by inconsistency throughout much of the 2016-17 season. That's led to James adjusting both his free-throw stance and regular routine just in time for the playoffs.
Helping James in that adjustment is teammate Kyle Korver, following in the tradition of James' days in Miami, when he looked for help from then-teammate Ray Allen.
"Myself and Kyle, we kind have been brainstorming about it, how to get it to be more efficient," James said on Saturday. "I mean, Kyle is probably one of the most efficient guys we have from the free-throw line on our team. So, I'm a basketball mind, I'm open-minded about trying to figure out ways that can help my efficiency so, it's a good start."
Korver has reportedly instructed James to stagger his stance, putting his left foot further back and keeping the ball higher before releasing it. That's in contrast to his prior style of standing with his feet side-by-side and dipping the ball down below his waist.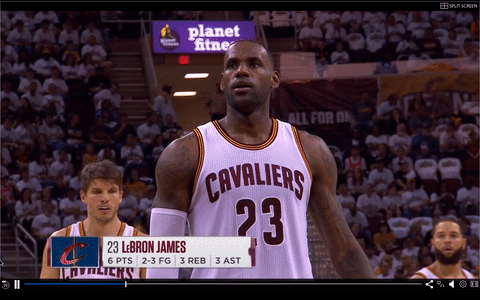 James endured his toughest season at the line this year, hitting just 67 percent, which resulted in his career percentage on free-throw attempts dipping to 74 percent. The struggles were enough that he made at least three different adjustments over the course of the season.
In Saturday's first playoff game against the Indiana Pacers, James' new style was inaugurated with three of his nine free throw attempts missing, part of a miserable day at the line for the Cavs, who missed 13 free throws as a team. Though the percentage was effectively the same as his regular season's, James says he's planning to stick with the routine.
Korver arrived in a trade in early January, and soon after joining the team made an effort to help Tristan Thompson at the foul line, where the center has struggled for much of his career. While there's been no real improvement thus far, Thompson is confident that things will change.
"You can always make changes," Thompson said. "You can always make adjustments. Never too late. It's up to the player. Do they want to make that change and build that muscle memory? Paul Millsap went from dunking the ball to shooting threes."
Regarding Saturday's problems for the team at the foul line, Cavs head coach Tyronn Lue made sure to note that and other issues that nearly cost the team the win in its one-point victory in Game 1.
"I addressed it after the game," Lue said. "We can play better and we will play better. We missed 13 free throws, turned the ball over and got 19 points in transition. And just cleaned up a few things. The playoffs are about adjustments and what you can do better. Hats off to them, they played well. But we'll be better."
Game 2 against the Pacers will tip off at Quicken Loans Arena on Monday night, just after 7 p.m.